Jim Click Mustang Raffle Winners
Thanks to all of our generous donors for, once again, making us the number 1 Jim Click raffle ticket sellers of 2015.
Congratulations to Colleen Mahoney of Tucson, Arizona for winning the Limited Edition 2015 Ford Mustang.
Congratulations to Parseghian Foundation special raffle winners:
Grand Prize Winner: 4 Box Seat tickets to a Notre Dame football game in 2016
John Girardi
1st through 5th Prize Winners: Coach Ara Parseghian Autographed Football
Robert Foley, Johnny Diggins, Stephen Solan, Jim Futterknecht, Michael Kuhn
6th through 10th Prize Winners: Coach Ara Parseghian Autographed Print
Ted Milobar, Gary Grasey, Cary Jones, Joe Loughrey, Helen Stefely
---
September 28, 2015
Vtesse, Inc. Initiates Phase 2b/3 Clinical Trial of VTS-270 for Treatment of Niemann Pick Type C1 (NPC) Disease
During its first year of operations, Vtesse advances lead program into late-stage, pivotal trial and launches www.theNPCstudy.com

Goal is to establish a clear foundational data set on the safety and efficacy of VTS-270 for treatment of NPC
Gaithersburg, MD, September 28, 2015 – Vtesse, Inc. today announced that the first three patients have been screened for inclusion in its pivotal Phase 2b/3 clinical trial with VTS-270 for treatment of Niemann-Pick Type C1 Disease (NPC). This clinical trial follows a Phase 1 study conducted by researchers at the National Institutes of Health (NIH) Eunice Kennedy Shriver National Institute of Child Health and Human Development (NICHD).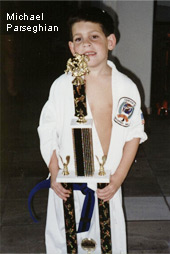 Sadly, the Parseghian family has lost Michael, Marcia and Christa to Niemann-Pick Type C disease. Their hearts will be forever broken.
Their resolve, however, to continue the fight against NP-C disease is not broken. The Parseghians and thousands of volunteers and friends across the US and around the world are raising funds and pushing medical research so that a treatment can be found.
Please help us in this valiant effort so that everyone afflicted with Niemann-Pick around the world can live to realize their hopes and dreams. Thank you.