National Institutes of Health Announcement- Hope for NPC Patients
DEPARTMENT OF HEALTH & HUMAN SERVICES National Institutes of Health
We are pleased to inform the NPC community of an upcoming clinical trial at the NIH to study the safety and tolerability of vorinostat in adults with Niemann-Pick disease, type C1. We plan to begin enrolling patients in September 2014.
This clinical trial is an open label study for 12 patients. "Open label" means that every patient will get vorinostat. There is no placebo, or sugar pill, in this study. Patients will come to the NIH for a total of 3 visits - at baseline, 3 months and at 6 months for this trial. Each visit will last for about 7-10 days. Patients will start taking the study drug while they are at the NIH and will continue taking the study drug when they return home. They will also need to have blood drawn for safety labs every two weeks between visits while they are at home. After the 6 month visit, they will stop taking the study drug and they will be done with the trial.
Vorinostat is a pill that is taken by mouth. The purpose of this study is to test the safety and tolerability of vorinostat when it is given to adults with NPC1. Patients will have blood drawn and will have a lumbar puncture (spinal tap) to collect spinal fluid at each visit to measure how much of the drug is absorbed. Patients will also have tests of hearing, speech, swallowing and movement.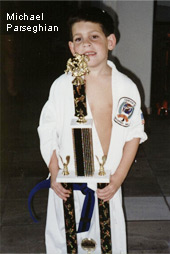 Sadly, the Parseghian family has lost Michael, Marcia and Christa to Niemann-Pick Type C disease. Their hearts will be forever broken.
Their resolve, however, to continue the fight against NP-C disease is not broken. The Parseghians and thousands of volunteers and friends across the US and around the world are raising funds and pushing medical research so that a treatment can be found.
Please help us in this valiant effort so that everyone afflicted with Niemann-Pick around the world can live to realize their hopes and dreams. Thank you.